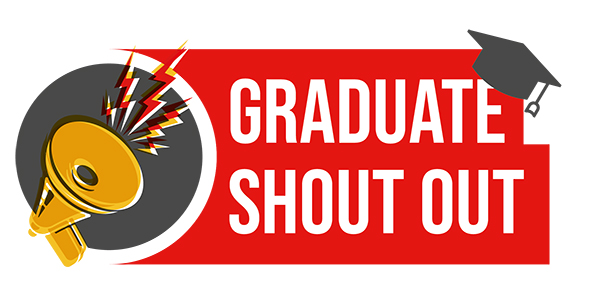 Wednesday 30 November 2022
Follow us for the latest graduate news and information
Highlights
Welcome
Welcome to the November edition of Graduate Shout Out, your monthly newsletter, keeping you up to date with all the latest news, opportunities, and events. This month we share with you some amazing graduate jobs, the Cheshire Prize for Literature and lots more!

Don't forget to follow us on social media to stay up to date with even more great alumni content from the University of Chester.

Instagram
Facebook
Twitter
Congratulations Graduates!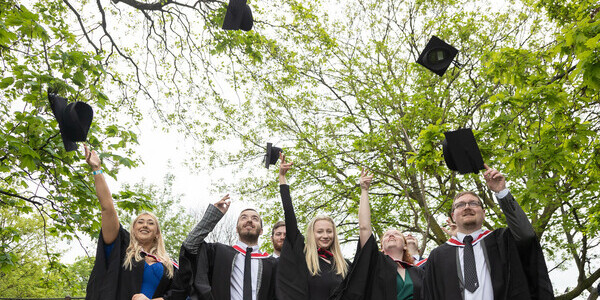 A massive congratulations to all those that graduated this month. We hope you all had an amazing day, we loved chatting with so many of you afterwards – thank you for sharing your stories with us.

If you haven't already, make sure you register/update your details with us to keep up to date with all the latest news and get access to all the incredible alumni benefits.
Inaugural Lecture - From Research to Policy in the Sociology of Sport: The Reality of Knowledge
Join us on Wednesday 30th November for Professor Daniel Bloyce's inaugural lecture:
From Research to Policy in the Sociology of Sport: The Reality of Knowledge
Anna Sutton Building 017, Exton Park
The lecture starts at 6.30pm (tea and coffee will be served from 6pm)
Email events@chester.ac.uk to book.
Utilising his most recent areas of research interest – Olympic legacy policy; active travel; the lives of male professional golfers and footballers – Daniel will present his and his PhD students' experiences of trying to use research in the sociology of sport to influence policy, both within and beyond sport.
Graduate Jobs
Here are some excellent graduate opportunities.
The Local Government National Graduate Development Programme is a two-year programme that can kick-start your management career in the public sector - all while earning a minimum salary of £26,446 (plus London weighting, where applicable). Click here for more info.
To look for other graduate vacancies or training schemes, just search here, selecting the appropriate opportunity type.
Paid Graduate Internships - Coming Soon!
Careers and Employability will be looking to promote Workplace Experiences, paid graduate internships exclusive to 2022 UoC undergraduates, in the near future.

These 8-week internships will provide you with the opportunity to work full-time for a supportive, local employer, enabling you to develop your current skills or to try out something new!

You will:

work for 288 hours
be paid £11.97 per hour - £3447.36 in total
gain valuable work experience
enhance your CV

Interested in taking part?
Why not complete an Expression of Interest Form and we will be in touch?*
*(Eligibility criteria applies)
Graduate Peer Mentoring - Registration now open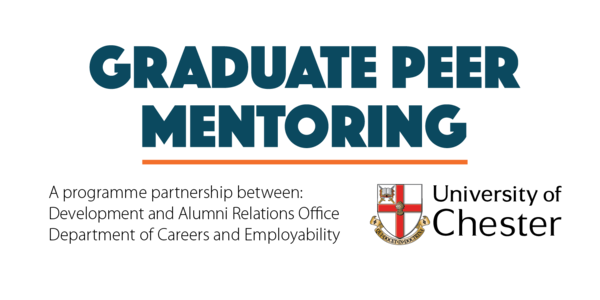 Registration is now live for Graduate Peer Mentoring 2022-23, a collaboration between the Development and Alumni Relations Office (DARO) and Careers and Employability (C&E).

As a recent graduate if you would like further support in building your confidence, knowledge or skills, then receiving mentorship from a fellow graduate a little further along in their career could be just what you're looking for.

You can read about one of our previous mentees, Jonathon, here to find out how this programme helped him.

Click here to register. Registration is open now until Monday 12th December. There is a limit on the number of participants we can include, so if you'd like to be involved, please register now!
The Cheshire Prize for Literature
The Cheshire Prize for Literature was founded in 2003 by the then High Sheriff, John Richards OBE DL, and Dr Bill Hughes from the University of Chester. It is open to people with a connection to the historic Cheshire boundary (including Wirral). It is one of the few free-to-enter literary competitions and offers not only a significant cash prize for the winner but also the rare opportunity for the best entries from the previous year to be published professionally by the University of Chester Press in an anthology edited by a senior member of academic staff.

This year there is no theme and entrants can write about anything that inspires them.
There are three age groups:

Primary (4-11) for short stories or poetry
Secondary (11-18) for short stories or poetry
Over 18 for short stories, children's literature, poetry or scrptwriting

The closing date is January 31st 2023.
Click here for more information.
Personal Development Survey
The personal development of our students at the University of Chester is as important to us as your academic achievements. We've recently developed the Citizen Student strategy to bring this to the fore, but we'd love to know how you, as graduates, feel the University helped support you in your wider personal development during your time with us.

The survey linked below asks a few questions about your thoughts on how the University impacted on your individual development while you studied with us. We'll use the results to understand what we've done well, but also to identify new ways to improve the experience for future students.

The closing date for this survey is Friday 16th December.
Anxiety-free news: Bees roll balls and match colours in new research on animal learning
Bees have been trained to roll a ball to a goal matching its colour, as part of research seeking to gain a better understanding of the ability of insects to learn and reason.

Through ball-rolling tasks, Dr Pizza Chow, from the University of Chester's School of Psychology, and experts from the Ecology and Genetics Research Unit at the University of Oulu, Finland, have highlighted that the right choice of stimuli is paramount, to discover more about the extent to which invertebrates possess aspects of 'higher' cognition. These aspects include tool selection, concept learning and causal reasoning, that are comparable to those of humans.

With the footballing skills of the human species in focus for the World Cup, the research on buff-tailed bumblebees (Bombus terrestris) in the ball-rolling tool selection tasks has been published in the international journal, iScience.

Read more here
Preparing for work in the UK - free course!
If you are an international graduate and staying in the UK for work, the British Council have developed a 'Preparing for Work' course just for you! This online two-week programme will equip you with the skills and understanding that you need to navigate and enter your local employment market. 

It will also support you to identify your skills and teach you how to communicate these effectively to potential employers through job applications, as well as building an understanding of organisational and workplace culture.
Wellbeing tip of the month
Be Active: Keeping active has a positive effect on your wellbeing, and both mental and physical health. You can stay active without spending money by going for a walk at lunchtime, getting off the bus one stop early or even dancing round the kitchen! Try mind/body connecting activities such as tai chi or yoga. There are also lots of free online workouts on YouTube.