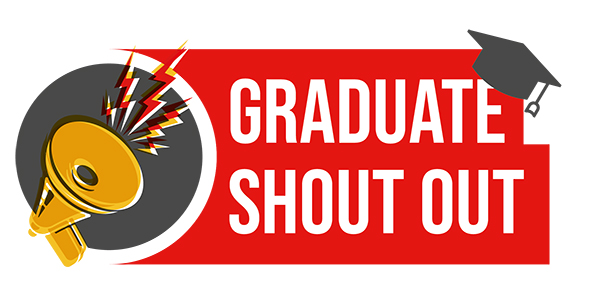 Wednesday 25 January 2023
Follow us for the latest graduate news and information
Highlights
Welcome
Welcome to the January edition of Graduate Shout Out, your monthly newsletter, keeping you up to date with all the latest news, opportunities, and events. This month we share with you our new graduation gallery, news on the Festival of Postgrad and some great graduate jobs.

Don't forget to follow us on social media to stay up to date with even more great alumni content from the University of Chester.
Graduation Gallery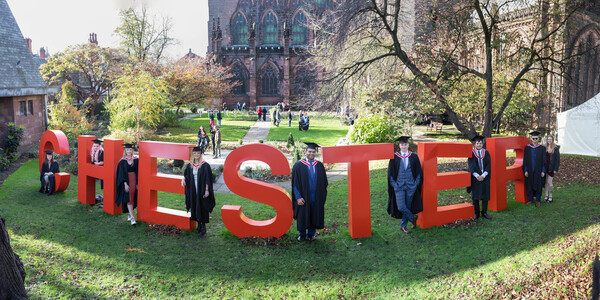 We have a brand-new graduation gallery, where you can see all the photos that our photographers took on your special day.

Take a look now and let us know if you spot yourself!

At the November graduation, we spoke to some of our lovely graduates and heard about their favourite experiences and some tips for our students. Take a look at the video here.
We want to hear from you!
As a recent graduate, our current students want to hear from you!...Your experience can be invaluable in helping to shape theirs!
Your quick top tips and advice
Each month we'll ask for your views and experience on different things such as:
Your Top tips for coping with studies in your final year.
Best places to socialise in Chester.
Favourite place to study on campus.
Top tips for making friends.
One piece of advice you would give to a new student.
We will share polls, surveys, etc and ask you to quickly share your thoughts.
What's your story?
We would also like to hear your story in detail.
What are you up to now?
Are you doing more studying?
Are you in your dream job?
Are you still figuring it out?
We are keen to learn about your graduate journey so we can share your experience with current students to help them prepare for the next steps after university.
If you have any news or updates that you would be happy to share with the Graduate Shout Out team please email us on alumni@chester.ac.uk
You've Graduated:What Next - A live, interactive webinar
You've Graduated: What Next? – A live, interactive webinar to support recent graduates to boost their job search, access graduate job opportunities & ignite their career.
Join the full morning of sessions, or feel free to pick and choose which to attend. Join to:
Fine tune your job hunt skills.
Find out what career support is available and how to use it effectively.
Learn what graduate schemes and opportunities are out there, and how to access them.
Hear directly from graduate employers and find out what they are looking for in a candidate.
Ask questions as part of the live Q&A.
Ignite your graduate career.
With speakers from Aviva, Police Careers, Kreston Reeves, Enterprise, National Careers Service and more.
CWP First Response Service - Online Event
Find out about the Cheshire and Wirral Partnership NHS Foundation Trust First Response Service, the jobs they have available and what it's like to work for them. Managers will provide information on graduate and non-graduate roles, how to apply and what makes a successful candidate, as well as answering your questions.

This informal, online event takes place on Wednesday 22nd February, from 3:30 – 4:30pm and is free to attend. Book your place here.
Festival of Postgrad - February and March events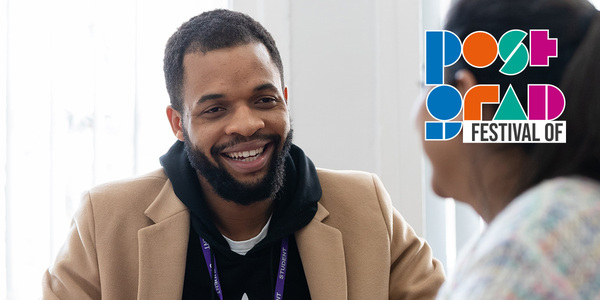 If you, or someone you know, is considering postgraduate study, then come along to our Festival of Postgrad and start exploring postgraduate degree options here at Chester.

We're hosting a fortnight of online information events between 27th February and 10th March to give you the opportunity to find out about your prospective area(s) of study, culminating in an on-site Open Event at your chosen study location:
University Centre Warrington - Saturday 11th March
Exton Park, Chester - Wednesday 15th March
University Centre Shrewsbury - Thursday 16th March
As well as chatting to academic staff, at the Open Events you will be able to speak with a range of support areas and find out about our Graduate Loyalty Discount which offers 25% off qualifying postgraduate taught Master's courses, for qualifying students.
Graduate Jobs
For just £50, can you sponsor a graduand's gown?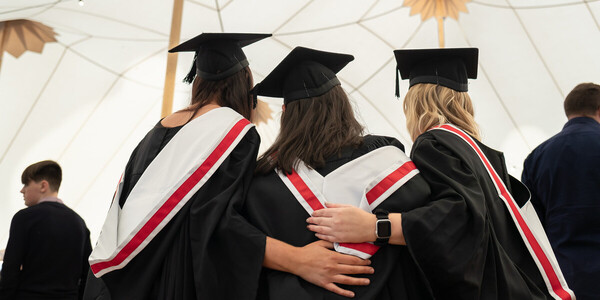 Many graduands struggle with the cost of their graduation gown, could you help by sponsoring a gown?

By donating, you will be funding the full cost of a graduand's* gown for their graduation ceremony, of which they may not have been able to attend otherwise, making the start of their alumni journey the most special it can be.

If you can give a gift of £50 to sponsor a gown and help a graduand, either as an individual or as a class, please donate here.

*Graduands who are eligible to receive the sponsorship will need to have been in receipt of the Chester Bursary during their time at the University.
Help us improve assessment practice at the University of Chester
We are recruiting current and past students to contribute to facilitated discussions that explore changes to assessment that can make a positive difference to student engagement and success. Do you have experiences or views to share?

Join us on Thursday 9th February 2023 at the Queen's Park Site in Chester between 11.30 and 13.30 – including a light lunch. Places are limited so please contact e.clare@chester.ac.uk by Friday 3rd February to book your place and receive more information.
Archaeologists shed light on the lives of Stone Age hunter-gatherers in Britain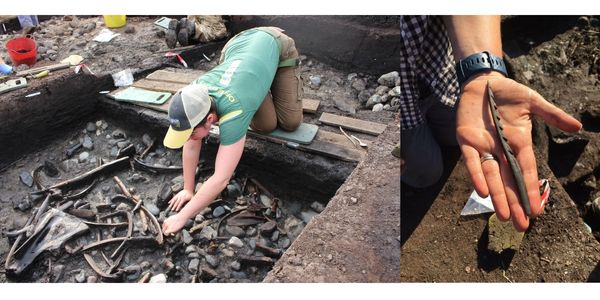 A team of archaeologists from the Universities of Chester and Manchester, including students and graduates have made discoveries which shed new light on the communities who inhabited Britain after the end of the last Ice Age.
Excavations carried out by the team at a site in North Yorkshire have uncovered the exceptionally well-preserved remains of a small settlement inhabited by groups of hunter-gatherers around ten and a half thousand years ago. Among the finds that the team recovered were the bones of animals that people hunted, tools and weapons made from bone, antler and stone, and rare traces of woodworking.
The site near Scarborough originally lay on the shore of an island in an ancient lake and dates to the Mesolithic, or 'Middle Stone Age' period. Over thousands of years the lake slowly filled in with thick deposits of peat, which gradually buried and preserved the site.
Graduate Outcomes survey
Your graduate voice is powerful. We want to hear it.

If you completed your course between August and October 2021 you should have received your Graduate Outcomes survey by email recently.

What's been the next chapter of your Chester story? Graduate Outcomes is your chance to tell us what you have been doing since leaving the University, whether this is employment, further study, self-employment, setting up your own business, or something totally different. Even if you have come back on a new course, we would still love to hear from you. It's also an opportunity to say how your course prepared you for what you're doing now and for your future career plans.

It's really important we get as many responses as possible. Your response will help the University and your department to evaluate the course you took, for the benefit of current and future students.

If you are unable to be reached by email, you will then be contacted by phone. However, it's much quicker and easier doing it online. You have until the end of February 2023 to complete it.

If you have new contact details to help us with this, please let us know by emailing graduateoutcomes@chester.ac.uk, so we can make sure your graduate voice is heard.

If you haven't received your Graduate Outcomes survey, let us know via the above email address.
Anxiety-free news: Chester Zoo welcomes birth of rare chimpanzee
The world's rarest chimpanzee has been born at Chester Zoo.

New mum ZeeZee – a critically endangered Western chimpanzee – safely delivered the tiny baby boy following an eight-month pregnancy. The new male arrival is in good health and has spent the first few weeks of life bonding with mum and the rest of the 22-strong troop.

As few as just 18,000 Western chimpanzees remain across Africa and it is the first subspecies of chimpanzee to ever be declared Critically Endangered by the International Union for the Conservation of Nature (IUCN).

In tradition, the new baby will be named after a famous rock or pop star, joining previously welcomed Dylan (Bob), Alice (Cooper) and Annie (Lennox).
Read more here.
Wellbeing Tip of the month
| | |
| --- | --- |
| | Keep Learning: Continuing to learn throughout life can build confidence and self-esteem. Take on something new at work, try out a new recipe or learn a new skill or a new language. Learning new things can help us to connect with others, take notice and stay active! |