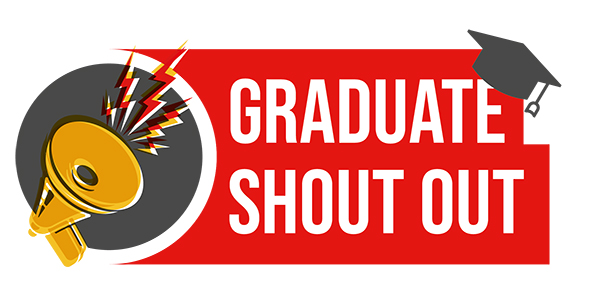 Wednesday 26 October 2022
Follow us for the latest graduate news and information
Highlights
Welcome
Welcome to the October edition of Graduate Shout Out, your monthly newsletter, keeping you up to date with all the latest news, opportunities, and events. This month we share with you some amazing graduate jobs, the latest issue of ACH1EVE magazine and lots more!

Don't forget to follow us on social media to stay up to date with even more great alumni content from the University of Chester.

Instagram
Facebook
Twitter
Graduation Information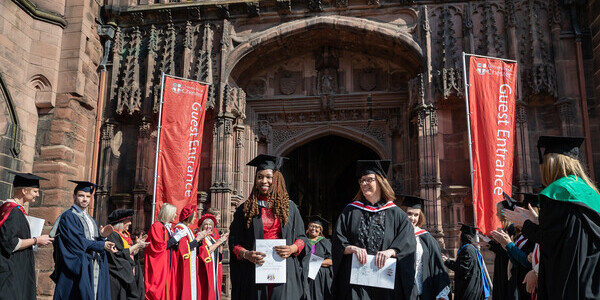 Next week, Tuesday 1st November – Friday 4th November, graduations will be taking place in Chester Cathedral.

If you are attending your graduation next week, we want to say a massive congratulations to you and we hope you enjoy your special day. You can find all of the key information you need to know ahead of your day below:
Don't forget to collect your gown, hood and hat from Ede & Ravenscroft from the Main Sports Hall in the Northgate Arena, Victoria Road, Chester, CH2 2AU at least an hour before your ceremony.
Graduate Jobs
Here are some excellent graduate opportunities from our Careers and Employability service. Follow these links to CareerHub to find out more and to apply:
To look for other graduate vacancies or training schemes, just search here, selecting the appropriate opportunity type.
Professor Andi Mabhala Inaugural Lecture
Did you know as a graduate, you can still attend any of the University of Chester's inaugural lectures?
Join us on Thursday 27th October for Professor Andi Mabhala's inaugural lecture:
Being at the Bottom Rung of the Ladder in an Unequal Society
Anna Sutton Building 017, Exton Park
The lecture starts at 6.30pm (tea and coffee will be served from 6pm)
Email events@chester.ac.uk to book.
In this lecture, Andi will be discussing the role society plays in health inequality and the lecture will draw on several studies that support the proposition that social justice is a foundation for public health as a strategy to reduce inequalities in health.
The annual Haygarth Public Lecture in November has been rescheduled to the spring. Further details will follow.
The High Sheriff of Cheshire's Awards for Enterprise 2022/23
Entries for the Hight Sheriff Awards are open! The Awards highlight outstanding achievement by local companies with fewer than 250 employees across 10 different categories, with entrants being judged by a panel of senior members of the business community. The Cheshire and Warrington Business Leaders Award is the exception and is open to businesses of any size. Business and individuals can enter themselves and we also welcome nominations from others.

Take a look at all the categories here.
Entries close on December 12th, 2022. Winners will be announced at the Awards Evening on March 31st, 2023
ACH1EVE Magazine – Issue 4 out now!

We are thrilled to share with you this year's edition of ACH1EVE Magazine.

The theme of this issue is sustainability, and it is packed full of articles from staff and students as well as some of our incredible alumni who share their views on this topic.

You can take a look at all the previous editions here.
.
We are always on the lookout for alumni who would like to contribute to the next issue of ACH1EVE. If you have a topic that you are a passionate about, would like to share a new project, or would like to write about your research, please email ach1eve@chester.ac.uk.
Graduate Success Story – Hamza Hussain
Hamza Hussain has officially presented Mona's Curry Base to the market this year, and offered tastings at the UK launch event.

He was supported in the entrepreneurial idea from the start, by the University's Business School, while studying a Business Management with Marketing degree.

Named after his mother who created the recipe, the gluten-free and vegan product is an authentic Indian curry sauce base, suitable for Halal and Kosher diets, which with a few additional fresh ingredients can be used to make any curry.

Mona's Curry Base has already secured interest and significant orders from a range of businesses, universities, caterers and the NHS.

Hamza showed determination to succeed from the beginning of his degree studies, winning the 2017 Santander Enterprise Challenge in his first year at the University, after impressing the judges with the initial Curry Block idea.

Hamza said: "I'd like to thank all my lecturers at Chester Business School for giving me the help and motivation to set up Mona's Curry. If it wasn't for the opportunities that the Business School provided, I would not be where I am today. Having been able to enter and compete in the Enterprise Challenge, it allowed me the chance to bring the idea to life. Winning the competition and getting feedback from industry leaders really helped me in going forward with the business venture.

"After graduating, I am delighted to have secured backing to officially launch Mona's Curry Base. My advice to future graduates is to be ambitious and go for it. Never be afraid to go out of your comfort zone. If you are determined enough, you will succeed."
The Festival of Postgrad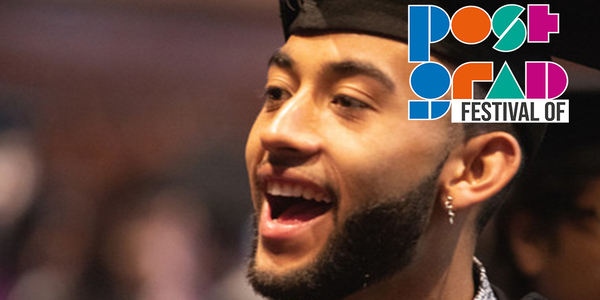 Are you interested in gaining a postgraduate degree?

Our in-person Open Evening on 2nd November from 5pm – 7:30pm will give you the opportunity to meet your lecturers in person, as well as chat to support services including funding and finance, and admissions.

For more information or to register, follow the link below.
Wellbeing Tip of the Month
| | |
| --- | --- |
| | Take Notice: Take time to enjoy 'the moment' and the environment around you. Take a different route to work; try a new place for lunch; reflect on what went well during the day; try a mindful activity such as colouring, journaling or gardening |