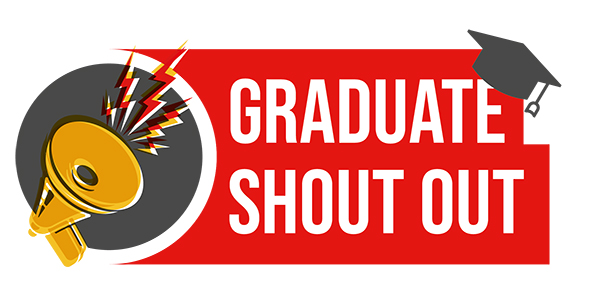 Wednesday 29 June 2022
Follow us for the latest graduate news and information
Highlights
Welcome to Graduate Shout Out
Welcome to your very first edition of Graduate Shout Out. As one of the newest members of our alumni family, from now on you'll receive a copy of our Graduate Shout Out newsletter once a month. We know how crucial the first two years after graduating are so we hope to help you along the way with this newsletter which will include the latest alumni news, success stories, opportunities, and events. And don't forget to follow us on social media to stay up to date with even more great alumni content from the University of Chester.
Take part in our graduation survey to win a £50 voucher
We want to hear all about your experiences at graduation. Fill in the short survey here and you could be in with a chance to win a £50 Amazon/Love2Shop voucher!

If your friends and family who attended graduation with you have yet to fill out the guest survey, make sure to send it on to them and both yourself and your guest could win an additional £50 Amazon/Love2Shop voucher each.

You can find the guest survey here.
Graduation highlights video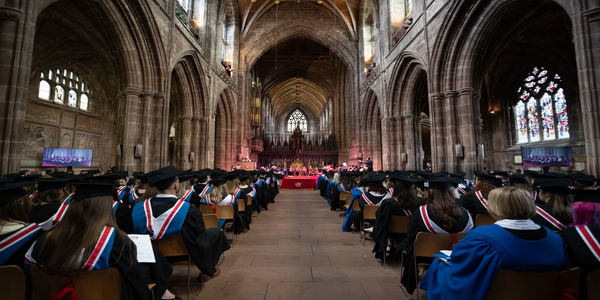 This year we held an incredible amount of graduation ceremonies, a huge congratulations again to all those who received their awards!

Check out the amazing highlights video below and see if you can spot yourself.
Apply now for one of our paid Graduate Internships!
Are you a graduate looking for your next step? Do you have a career in mind but need experience? Are you unsure what to do and want to try things out? An internship is a great way to grow your network, learn about roles and sectors and upskill. We have various exciting, paid, graduate internship opportunities currently open to applications.
Become a Project Support Officer - develop your skills, broaden your network, and even try something new. Take a look at these fantastic opportunities and apply using this link. Please note that available opportunities will be updated regularly during the coming week.

The key info:
Role title: Project Support Officer
In person and remote opportunities available
Paid at £11.97 per hour
Minimum 8 week internship beginning 8th August
You are eligible if:
You completed your undergraduate studies around June 2021
Are a 'Home' graduate
Not sure whether to apply? Take a look at what previous students and graduates have to say here. If you have any queries, please contact us on workex@chester.ac.uk
LCR Grad Scheme – applications now open!
Live in or around Liverpool? Applications are now open for the Liverpool City Region Grad Scheme. This scheme pairs fresh graduates up with small to medium-sized businesses in the Liverpool area across the Marketing and Business Operations and Technical sectors. To be eligible to apply for this scheme you must:
Have a degree from any UK university.
Be willing to relocate to or be currently based in the Liverpool City Region (six boroughs viewed here).
Be a British citizen or have the status of indefinite leave to remain and work without restriction in the UK.
Graduate Outcomes Survey
We just wanted to remind you that you'll be contacted roughly 15 months after finishing your course to ask you to take part in the Graduate Outcomes survey.

This survey is your chance to tell us what you've been doing since leaving the University. Whether it be employment, self-employment/freelancing, volunteering, further study, or something totally different; Graduate Outcomes is your chance to tell us all about it. It's also an opportunity to say how your course prepared you for what you're doing at the time and for your future career plans.

By completing your Graduate Outcomes survey, when invited to do so, you'll be helping future applicants like past graduates will have helped you. It's important we get as many responses as possible, as it also helps your department evaluate their courses.

If you have any questions about the Graduate Outcomes survey, please email graduateoutcomes@chester.ac.uk
Professor Yu Shi Inaugural Lecture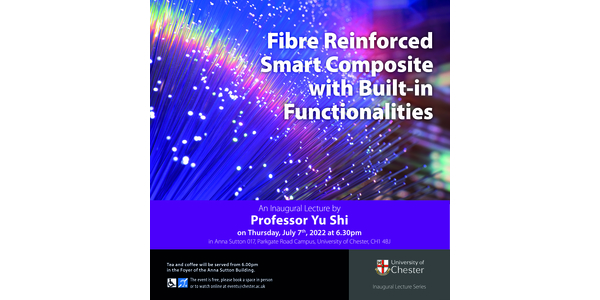 Did you know as a graduate, you can still attend any of the University of Chester's inaugural lectures?
Join us on Thursday 7th July for Professor Yu Shi's inaugural lecture as he discusses Fibre reinforced smart composite with built-in functionalities.
Wednesday 1 June
Anna Sutton Building 017, Exton Park
The lecture starts at 6.30pm (tea and coffee will be served from 6pm)
Email events@chester.ac.uk to book.
Alumni Benefits
As a University of Chester graduate, there are a number of benefits that you can access, including:

Support from our Careers and Employability department as you begin your graduate career journey.
Access exclusive discounts on further study including up to 25% off a postgraduate taught Master's course.*
Access our libraries for life, with our free library membership for all alumni.
Receive ACH1EVE, our free alumni magazine, straight to your inbox annually.
And much more!

Simply click the link here to register your details with us.

*Terms and conditions apply and can be found here.
Graduate Success Story – The Atlantic Girls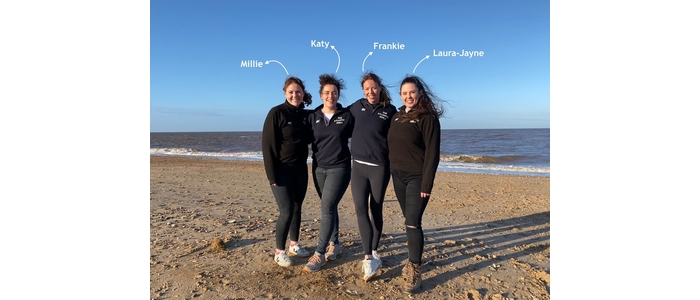 Meet the Atlantic Girls, four ladies who are taking on one of the toughest challenges in the sporting world; a 3000-mile race across the Atlantic Ocean, including alumna – Millie.

The Talisker Whiskey Atlantic Challenge is an extreme endurance race, where individuals test their grit and determination against Mother Nature and compete to be the fastest crew across the 3000-mile route. This year's race will see 40 crews set off from San Sebastain La Gomera to English Harbour in Antiqua in December 2022.

During the race, these 4 women will be completely self-sufficient rowing in a routine of two hours on the oars and two hours off for 24 hours a day. Within their challenge, they are also promoting sustainable living and environmental changes for a healthy planet and healthy oceans. Campaigning for people to make even the smallest change to better impact the environment and offset carbon emissions.

As part of their challenge, they are also raising money for The Brain Tumour Charity.
Graduate Success Story – Laura Reed's experience
In 2016, I commenced on my journey to start the next phase of my education studying for a Spanish BA (Hons) degree at University of Chester.

I feel incredibly fortunate for all the life experiences that I was afforded by University of Chester as part of my Spanish studies including a short placement to Costa Rica and a year in Gijón - Northern Spain working as an English Language Assistant for the British Council in two primary schools. I had an amazing time on both placements and in Chester, making lifelong friends and treasured memories along the way.

I had such an enjoyable time at University of Chester, and they were able to offer a course that was perfect for the next stage of my studies, so I decided to study for my MSc with them. Just before completing my Masters I was offered a graduate job as a Spanish speaking SEO Executive and I am now working for an international multi-award winning Digital Marketing Agency using both my Spanish and Digital Marketing skills learnt on my Undergraduate and Masters degree courses at Chester. Equipped with these and the life experiences I gained during my studies at Chester, I am embarking on a career path that I am very excited about and cannot wait to see what the future brings.
Graduate Success Story – Luis Roberts Music
Alumnus, Louis Roberts, who graduated in 2020 with a first-class degree in Popular Music Performance has gone on to achieve musical success.

He has released an incredible debut album – Cloeon – which is entirely in Welsh! Inspired by his love of the Welsh language and the importance of it within his family, he decided to release his first album all in the language.

You can check out his album on Spotify or Youtube.