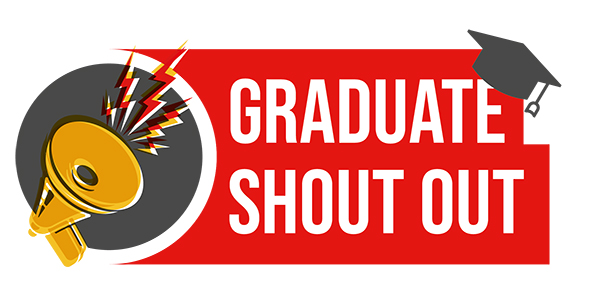 Wednesday 28 December 2022
Follow us for the latest graduate news and information
Highlights
Welcome
Welcome to the December edition of Graduate Shout Out, your monthly newsletter, keeping you up to date with all the latest news, opportunities, and events. This month we share with you some amazing graduate jobs, the Commonwealth Poetry Podcast and lots more!

Don't forget to follow us on social media to stay up to date with even more great alumni content from the University of Chester.

Instagram
Facebook
Twitter

We wish you and your families a happy holiday, and hope you have a great New Year!
Inaugural Lecture - A Risky Business: From Science to the Relationship in Supporting People at Risk of Harm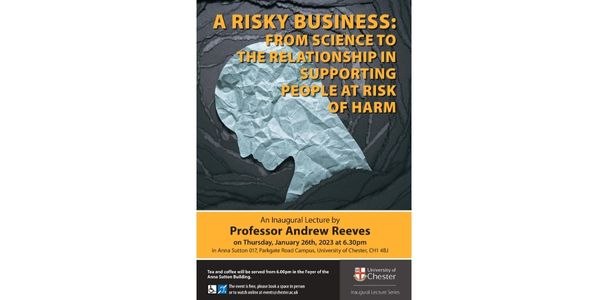 Join us on Thursday 25th January for Professor Andrew Reeves' inaugural lecture:
A Risky Business: From Science to the Relationship in Supporting People at Risk of Harm
Anna Sutton Building 017, Exton Park
The lecture starts at 6.30pm (tea and coffee will be served from 6pm)
Email events@chester.ac.uk to book.
In this talk Andrew will offer a personal and professional account of the challenges in supporting people at risk of suicide. From his early career, beginning as a volunteer with Samaritans at aged 18, through his work as a Social Worker and Therapist, risk has dominated Andrew's professional relationships, his research, his writing, his thinking and his life. The increasing dominance of risk assessment tools – an attempt to bring some objectivity to assessment – has unhelpfully overshadowed the most important work, the subjective experience of being in relationship with another. As Shneidman once said, remembering the importance of the question, "where do you hurt, and how can I help you?.
Sustainability Podcast
The University of Chester Sustainability team have launched a monthly podcast! Each month, they discuss different themes of sustainability such as recycling & waste, energy, and community, exploring the global response to sustainability challenges, alongside the university's approach to creating a low-carbon, liveable campus. Last month, they released a bonus episode with Chester Cycling Campaign, talking about the benefits of cycling and how to get started. This month's bonus episode will focus on COP27, looking at the key outcomes from the conference. You can listen to the podcast on Spotify by searching 'Green Chester' or click here.
Graduate Jobs
Here are some excellent graduate opportunities from our Careers and Employability service. Follow these links to CareerHub to find out more and to apply -
To look for other graduate vacancies or training schemes, just search here, selecting the appropriate opportunity type.
Commonwealth Poetry Podcast
| | |
| --- | --- |
| | The CW Poetry Podcast is a fortnightly celebration of Poetry and The Commonwealth – where award winning podcaster and Chancellor of the University of Chester Gyles Brandreth and his daughter Aphra visit each of the 54 countries of the Commonwealth, meeting poets, performers and people who love poetry! Now you can join the conversation! Visit https://commonwealthpoetrypodcast.co.uk/ and select 'Join the Conversation' to get involved! |
Alumni Blog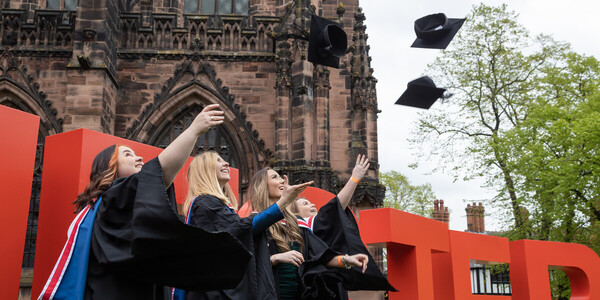 We are always looking for Graduate stories to share on our alumni blog. It's packed full of Chester Alumni experiences throughout the years, and we would love to add yours! Whether it's about your current situation or your time at the University of Chester, get in touch with us at alumni@chester.ac.uk to add your story!
And if you're looking for ideas and inspiration from your fellow alumni, why not have a read now?!

Wellbeing Tip of the month
| | |
| --- | --- |
| | Give: Research shows that giving back and doing good things can boost your wellbeing. Acts of kindness have a positive effect on both you and the recipient. Just a smile or chat can make a difference. Look for community volunteering opportunities; this is a great way to connect with new people too! |
Anxiety-free news: England Team coming home with Dave the cat
England aren't returning from Qatar with a World Cup trophy, but instead a cat. The team quickly befriended a stray cat during their four week stay, naming him Dave. Dave became a frequent visitor to the team, waiting for food every night. So, when it was time to return to England, defenders Kyle Walker and John Stones decided to adopt Dave and bring him home. Dave headed off to a vets where he will receive all his vaccinations and spend four months in quarantine before joining his new family.