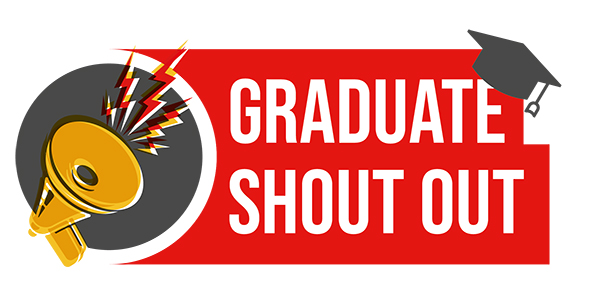 Wednesday 27 July 2022
Follow us for the latest graduate news and information
Highlights
Welcome to Graduate Shout Out
Welcome to July's edition of Graduate Shout Out, your monthly newsletter, keeping you up to date with all the latest news, opportunities, and events. This month we share with you how our Careers and Employability team can help you, volunteering opportunities, graduate success stories and lots more! Don't forget to follow us on social media to stay up to date with even more great alumni content from the University of Chester.
Careers and Employability Support
As a graduate of the University of Chester we wanted to take this opportunity to remind you about the services and ongoing support available from Careers and Employability and your continued access to CareerHub.
Accessing CareerHub will enable you to:
search for graduate jobs and internships
access resources to help you with your career planning and future job applications
book a Career Guidance Appointment or a Career Chat with our dedicated graduate Career Consultant, for help with career planning, CVs, applications and interview preparation (including mock interviews)
access our full programme of Career Workshops to develop your employability skills
access our Venture programme, for support with becoming self-employed, freelance or starting your own business
ask your career-related questions via 'Ask a Question'
upload your CV for checking.
We have a dedicated graduate Career Consultant, Nicola Davenport, who is available to help you to plan your next steps. Book an appointment with Nicola via CareerHub, or email careers@chester.ac.uk with your availability; we'll then get back to you to confirm a suitable appointment time. It doesn't matter the stage you're at in terms of your career planning. Whether you have lots of career ideas or not, make an appointment and come talk to us. Or, you could access our on-demand webinars, videos and other training and information resources on CareerHub to help you progress your next steps.

Nb - The first time you access CareerHub as a graduate you'll need to click the 'graduate' button and follow the link to reset your password. If you are still studying at Chester, you should login as a current student, as before. If you have any problems logging in, email us on careers@chester.ac.uk
Alumni volunteering
Volunteering has always been at the heart of our institution. The building of our Chapel in the 1840s, on our Exton Park site, was only possible thanks to the volunteering efforts of our students at the time. Volunteering continues to play an important part in the student experience today, whether that is through sharing skills, knowledge, or networking. When you give your time and talent today, you are helping the graduates of tomorrow reach their full potential.

Please get in touch by emailing alumni@chester.ac.uk if you would like to volunteer, whether you have your own ideas, or would like to be involved in any of the following ways:
Become a case study to inspire others on their academic or professional journey;
Share your knowledge by speaking at events or workshops;
Offer opportunities to students or new graduates through your employer or business;
Contribute to ACH1EVE magazine, The Cestrian or our blog.
Share your tips!
We want to hear from you with all your best tips for completing assignments on time and tackling reassessments!

Did you have a study buddy? Create a schedule? Reward yourself after completing assignments? No matter your preferred method, we want to hear all your tips and tricks.

Get in touch at shoutout@chester.ac.uk to let us know.
Graduate Outcomes Survey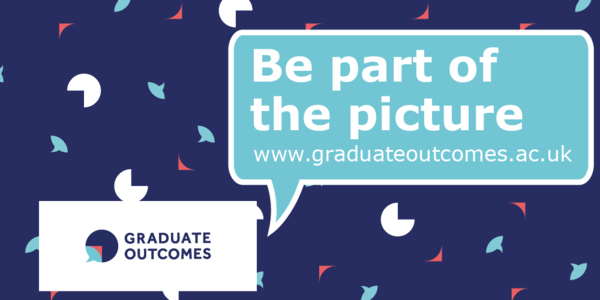 We just wanted to remind you that you'll be contacted roughly 15 months after finishing your course to ask you to take part in the Graduate Outcomes survey.

This survey is your chance to let us know what you've been doing since leaving the University. Whether it be employment, self-employment/freelancing, volunteering, further study, or something totally different, Graduate Outcomes is your chance to tell us all about it. It's also an opportunity to say how your course prepared you for what you're doing at the time and for your future career plans.

By completing your Graduate Outcomes survey, when invited to do so, you'll be helping future applicants like past graduates will have helped you. It's important we get as many responses as possible, as it also helps your department evaluate their courses.

If you have any questions about the Graduate Outcomes survey, please email graduateoutcomes@chester.ac.uk
Fronteer Independent Art Fair
Calling all creatives! University of Chester Fine Art graduates, Sharon Mossbeck and Michael Borkowsky, are bringing an art fair to the city this summer.

Said Sharon: "This year marks 10 years since I graduated from the University of Chester with a combined honours degree in Fine Art and Photography. While at University I met my future husband Michael Borkowsky, who had graduated with a Fine Art BA (Hons) degree in 2007.

"In 2017, we began to work under the name Fronteer. In 2020 (mid-pandemic,) we opened our art gallery Fronteer Gallery in Sheffield. This August, we are finally bringing our art fair to Chester, calling it Fronteer Independent Art Fair. It will run for four days over the August bank holiday weekend and will host around 25 small scale contemporary art exhibitions by artists from all around the UK."

Sharon and Michael are currently looking for volunteers to help deliver the event, so if you are interested get in touch with them at fronteerart@gmail.com

Fronteer Independent Art Fair 26 - 29 August 2022
CASC Gallery, Forum Shopping Centre, Northgate Street, Chester
Private View 4pm-7.30pm Friday. Open 10am – 4pm Saturday – Monday.
FREE ENTRY.
Graduate success story - Jessica Young's experience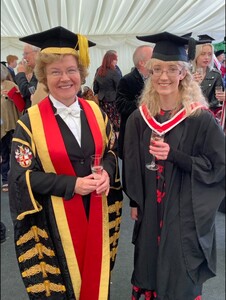 Growing up I was a bookworm. I would devour any book I could get my hands on. I would recite random facts to my bemused friends and annoy my teachers by constantly asking questions. However, one glance at my grades and I was barely an average student. No matter how much I studied I just couldn't get what was in my brain onto the exam paper. Later college told me I "just had a slight processing disorder", so gave me 25% extra time in exams and sent me on my way. Imagine my surprise when in my first week at University of Chester I was informed I probably had dyslexia. One month and a few tests later it was official, I have severe dyslexia!

Then the disability help kicked in - free printer credits, an audio recorder, a laptop with tons of assistive software and, my favourite, an education support worker. I soon began to see results. My marks jumped from 2:2s to 2:1s (I even got a few Firsts!). For two years I worked with my support worker, lecturers and friends to improve my work and grew in confidence.

Then COVID came and we were all left scrambling. I finished my second year in my childhood bedroom with the cockerel next door interrupting online calls. Third year wasn't as bad as I feared. Remote learning meant that I no longer had to use my audio recorder and make a note of times I missed or when I did not understand something. Instead, I just rewound the pre-recorded lecture, which cut down my study time and gave me more opportunity to further my research for my assignments. My grades soared and I was firmly in the First Class margin.

I finished my degree in June 2021 with a First Class in History and was surprised and honoured to receive the University Prize for History from my lecturers. The University of Chester pushed and supported me, a girl from the middle of nowhere, who no one believed in, to achieve my goals.
University Fashion students and graduates selected for Northern Fashion Week
Between Thursday 7 July and Saturday 9 July, the Northern Fashion Show was held at Manchester Central, featuring catwalk shows, fashion presentations and speaker sessions.

Six University of Chester Fashion students and graduates were selected to show their collections across a range of categories, including Sustainable Catwalk, Inclusivity and British Emerging Designer.

A huge congratulations to the following students/graduates!

Lili Sipeki (Sustainable Catwalk)
Emma Atherton (EROSA brand) – (Northern Innovation & Inclusivity categories)
Georgia Clutton Baxter – (Inclusivity category)
Macy Pace (Northern Fashion Womenswear Catwalk)
John Dobie (Northern Fashion Menswear Catwalk & British Emerging Designer - Menswear)
Alexandra Novacki – (British Emerging Designer - Menswear).
ACH1EVE Fund - coming soon!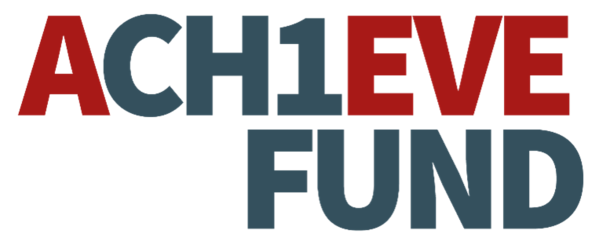 Launching 19 September 2022, this Fund is open to recent graduates* and all students, to make the widest range of activities and opportunities, possible - from a trip to a national conference for a teaching student, to an opportunity for a music student to perform in a concert, to contributing towards a local community sustainability project.

You can apply for funding from £500 up to £2,000 for the chance to enhance your development, help you grow your skills, expertise and connections to navigate your future successfully.

Due to the drastic changes we have seen in the world over the last few years, more than ever before, we want your experience to be enriching, successful and distinctively Chester – this could be through excelling in sport, realising an academic ambition, or responding to a need in the world that surrounds us.

Apply soon and ACH1EVE more than ever before.

*Graduates of up to two years are welcome to apply.